We were lucky enough to inherit 40 hazelnut trees, 30 sweet chestnuts, 15 peaches, four pawpaw fruit, four apples, three walnuts, two persimmons, two vines and two cherries. In November we ate our first persimmon, which was truly a thing of beauty.
Despite all that abundance, it was so exciting to start planting our first fruit trees. In November, we planted two apricot trees, two mulberries, two figs, a plum and a nectarine.
Because the quality of the soil in field is so poor after years of cutting it for hay, we've been building it up with manure, oyster shells, compost, seaweed, leaves, and basically any organic matter we can get our hands on. But this is going to take time (it's a big field!) so, for the moment, we're planting our fruit trees on mounds. That means they have more soil to root into before they hit clay.
To create the mounds, we needed soil, so, slightly ahead of schedule, we've started digging our second pond. By hand! The eventual aim is to have a pond roughly every 2.5 acres for water collection and biodiversity.
We've started the second raised bed (Hugelkultur) in the vegetable garden. However, a recent storm left it under water so we're going to have to improve the drainage!
Mind you, that's nothing compared to what the storm did to our outside compost loo!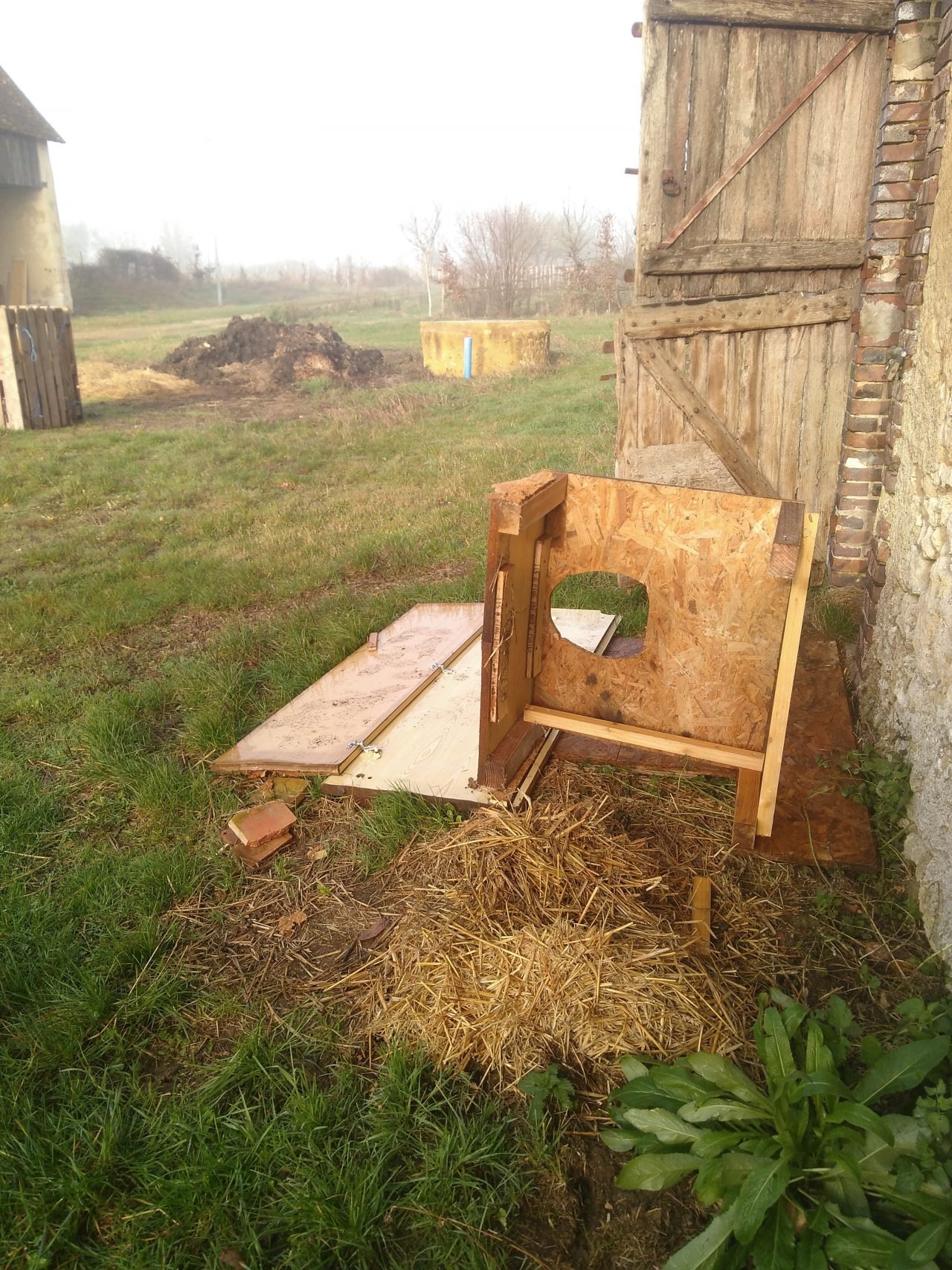 It was great while it lasted – a magnificent source of urine-drenched straw to fertilise our fruit trees. The plan is to build a more durable version in the spring.
In the latest instalment of the long running saga of our main pond, we've started building a diving platform under the direction of the farm's former owner, Steve. Actually, now we've seen the size of the thing, we think he may be planning to build a house on it!!!
Finally, we've become proud parents of two kittens. They were given to us as two girls so obviously we named them Thelma and Louise. However, a week later the vet informed us that Louise was actually a boy. So now he's Louis!
Amazingly, the mice that had started to eat their way through our kitchen, disappeared when the kittens arrived. Why is that so amazing? Because the kittens are currently spending the winter with us in Paris and haven't yet visited the farm!!! The universe certainly works in mysterious and beautiful ways sometimes!